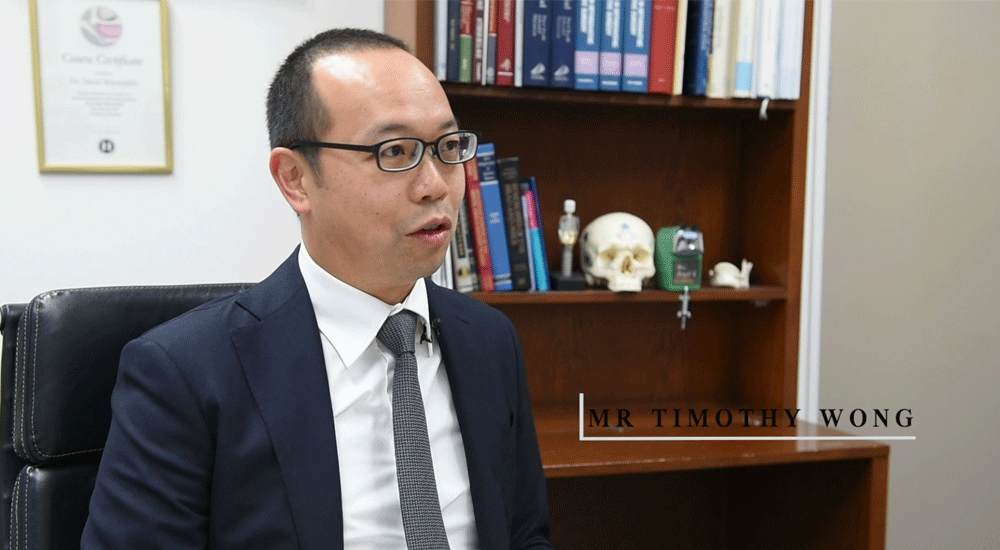 Mr Timothy Wong is a valuable member of the OMFS team.
Mr Timothy Wong completed his medical degree in 2001 before going on to complete his Royal Australasian College of Surgeons Part One in 2004, and then his dental degree in 2007. A keen student, Mr Timothy Wong completed his speciality Oral and Maxillofacial training between 2008 and 2011, as well as a Fellowship in Oral and Maxillofacial Surgery and a Clinical Fellowship in Maxillofacial Head and Neck Surgery. Read on to find out about his special interests in the field…
Corrective jaw surgery
Corrective jaw surgery is one of Mr Wong's specialities and a procedure in which he is deeply interested. Also known as orthognathic surgery, the procedure is often performed to correct a severely misaligned bite and can go a long way in improving one's ability to chew and speak. The procedure also has a number of aesthetic benefits.
The surgery itself can take anywhere between one and four hours, depending on the case. When you come in and see Mr Wong for a consultation, he will explain how the procedure works and let you know what to expect from the recovery period. He will also assist you in advice regarding any follow-up care, such as orthodontic treatment, which you may require following surgery.
Implantology
As an oral and maxillofacial surgeon, Mr Wong has a keen interest in implantology. He offers both dental implants and implant supported dentures to patients who are missing teeth or who have severely damaged teeth. He is also able to perform soft tissue grafting in cases where this process is necessary in facilitating the placement of dental implants.
Mr Wong performs a number of implant and grafting procedures, including bone and soft tissue grafting, traditional dental implants, implant-supported dentures, All-on-4 implants and zygomatic dental implants. To find out what each of these treatments involves, please take a look at our implants and grafting page.
Maxillofacial trauma
The treatment of maxillofacial trauma is very important in aiding an effective recovery and is one of Mr Wong's special interests. He often sees patients who have experienced facial trauma as a result of accidents and is highly experienced in managing these types of injuries, no matter how complex they may be.
As part of his facial trauma treatment, Mr Wong is able to treat broken jaws, as a well as broken cheekbones and eye sockets. In many cases, cheekbone and eye socket injuries actually occur together and may be caused by a range of reasons, including accidents, assaults, sporting incidents and hard falls. Jaw fractures and breaks are fairly common and Mr Wong is able to provide a range of treatments, depending on the unique case. Surgery is sometimes required, in which case Mr Wong will explain the process in detail before beginning treatment.
Management of head and neck tumours
Mr Wong is also interested in the management of head and neck tumours, which can be caused by a number of factors, including congenital conditions, infection and tumours of the soft tissue. In many cases, these types of abnormalities are picked up by a patient's dentist at a routine check-up and referred to Mr Wong for diagnosis and further management.
Depending on the nature of the abnormality, Mr Wong may recommend treatment in the form of surgery. Mr Wong performs a range of different surgeries, including primary tumour resection, maxillectomy, mandibulectomy, laryngectomy and neck dissection. The treatment that is right for you will depend on your unique situation, and Mr Wong will take the time to discuss and explain your options in detail when you see him for a consultation.
To arrange a consultation with Mr Timothy Wong, please don't hesitate to get in touch.