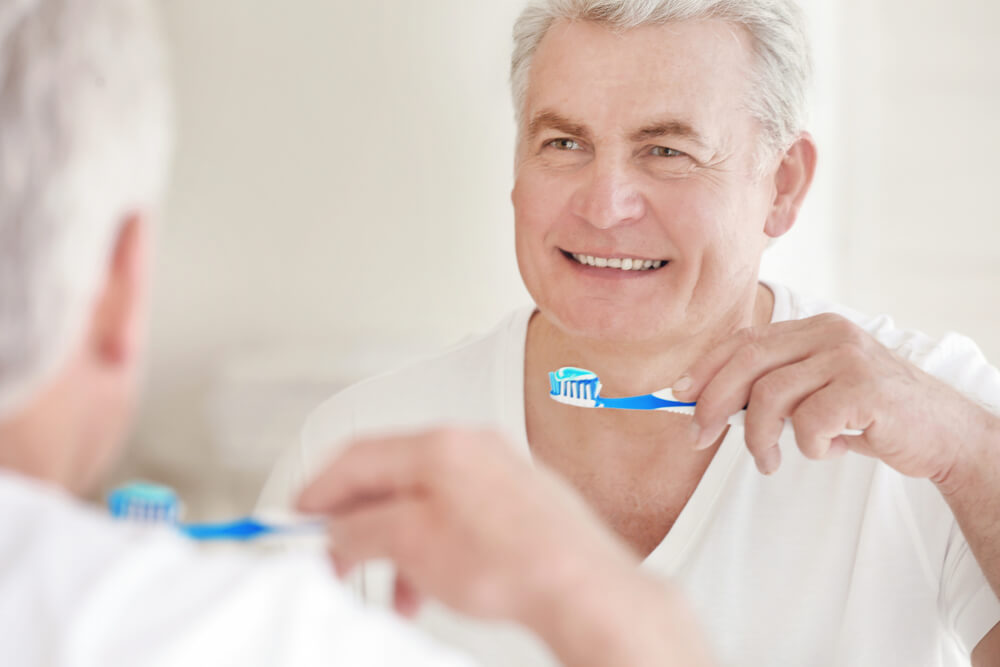 Peri-implantitis refers to an infection of the tissues around a dental implant.
Dental implants have an excellent success rate, making them a highly effective and popular option when it comes to replacing missing and damaged teeth.
That said, there are some potential complications that can affect the success of the treatment, one of which is a condition known as peri-implantitis. This issue refers to an inflammatory process in which the tissues surrounding a dental implant become inflamed, causing bone loss over time. This can then lead to dental implant failure.
Read on to find out what causes this problem, and what you can do to prevent it from occurring…
What causes peri-implantitis?
Dental implants are designed to replace missing teeth and are made from a number of components that are made to last for many years.
Although dental implants are made from extremely strong and durable materials, they are just as vulnerable to plaque build-up as natural teeth. When plaque is left to accumulate around the base of a dental implant, peri-implantitis can occur.
This causes inflammation of the gum tissue surrounding the dental implant, which causes the soft tissue and underlying bone to gradually deteriorate over time. Because these tissues provide support to the dental implant, this inflammation and damage can cause the implant to fail.
How can you prevent the issue?
The best way to prevent peri-implantitis altogether is to make sure that plaque does not build up around your implant. To do so, it is important that you commit to proper oral hygiene habits on a daily basis. This includes brushing your teeth at least twice a day and flossing daily.
It is also advisable that you see your dentist for regular check-ups and cleans. At these routine appointments, your dentist will check that your gums and bone remain healthy. If any signs of gum disease are detected, they will recommend a treatment plan as gum disease can put you at greater risk of developing peri-implantitis.
If you smoke, it is advisable that you take steps to quit the habit before you have a dental implant placed. Smoking is likely to increase your risk of dental implant failure.
What are the possible signs of peri-implantitis?
If the tissue around your dental implant is infected, you may notice that your gums feel sensitive or tender to the touch. They might also appear swollen. Another possible symptom of peri-implantitis is gums that bleed easily, especially when you floss or brush your teeth.
If you experience any of these symptoms, it is possible that the tissue around your implant is inflamed or infected. It is very important that you see your dentist as soon as possible so that they can check for potential issues and recommend a way forward.
Can it be treated?
If you notice any of the signs of peri-implantitis, you should see your dentist immediately so that they can treat the infection and avoid implant failure. The treatment that they recommend will depend on the severity of the issue, as well as the type of implant that you have.
Some of the possible treatments include antibiotics, which are often suitable for the treatment of moderate infections; laser therapy, in which bacteria is destroyed around the affected implant; and surgery, which involves cutting the gum tissue to remove plaque and bacteria. Bone regeneration, which sometimes involves grafting, may also be an option in some cases.
How can we help?
At OMFS, our team of experts offers a comprehensive range of implant and grafting services, as well as advice and information to help our patients maintain optimal oral health after their treatment is complete. If you have a question about how to best take care of a dental implant, please don't hesitate to raise it with your surgeon.
Our team of oral and maxillofacial surgeons offers a range of procedures — these include oral surgery; implants and grafting; face and jaw surgery; treatments for facial trauma; oral and maxillofacial pathology; and TMJ management and surgery. To find out more about our services, please have a look here.
To arrange an appointment, please get in touch here or give us a call on (03) 9347 3788.