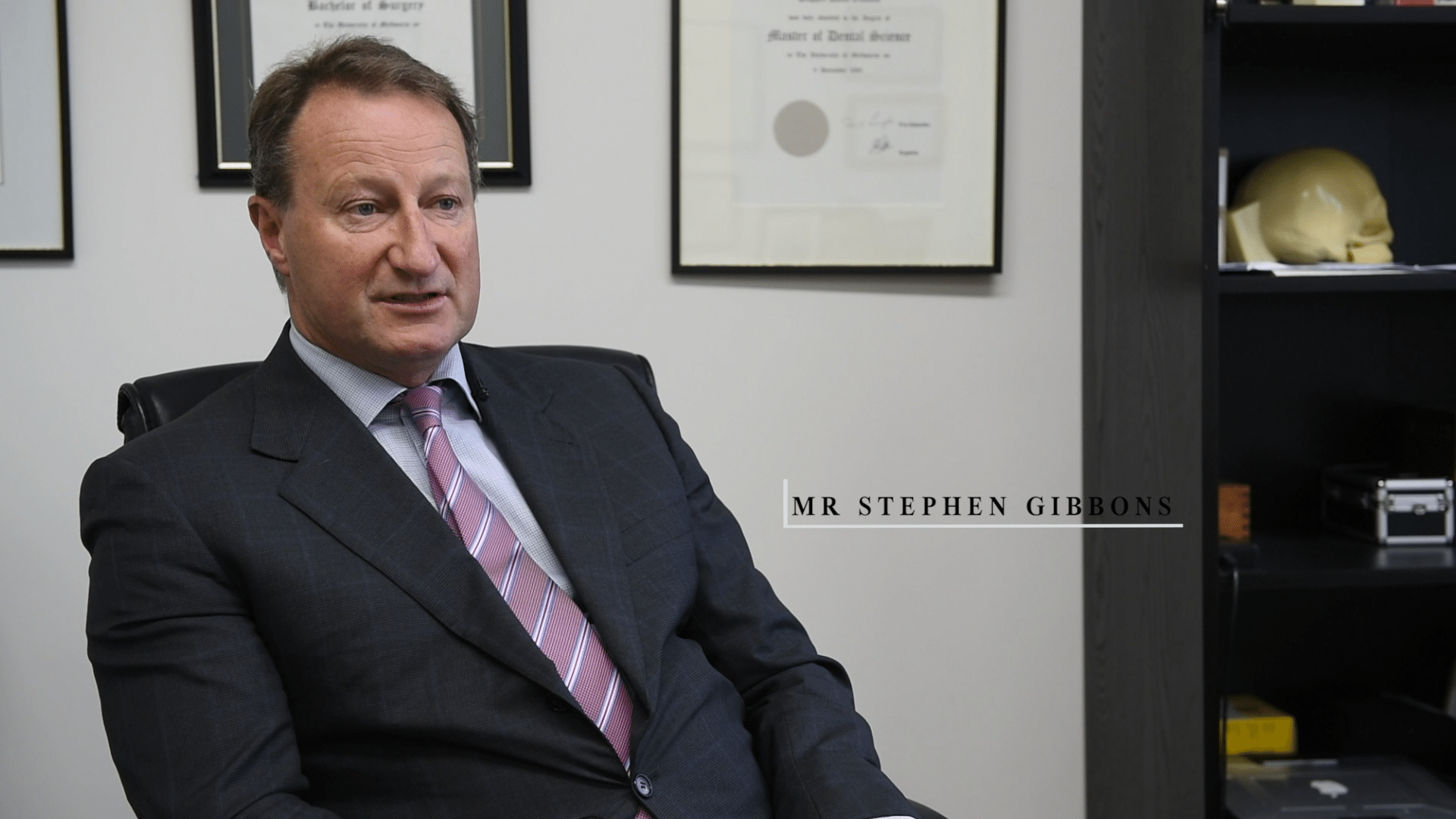 With many years of experience as an oral and maxillofacial surgeon, Associate Professor Stephen Gibbons has a number of special interests.
Oral and maxillofacial surgeon Associate Professor Stephen Gibbons is one of our valuable team members at OMFS. Read on to find out more about his special interests, and how he may be able to help you.
Corrective jaw surgery
One of Associate Professor Stephen Gibbons' areas of expertise is corrective jaw surgery, including procedures for cleft lips and palate deformities. Corrective jaw surgery, also known as orthognathic surgery, helps to improve a person's ability to chew and speak. It also provides a wide range of aesthetic and functional benefits.
Corrective jaw surgery generally involves cutting the bone in order to move the jaw in the required direction. Mr Gibbons is highly experienced in this form of surgery, and always makes sure that post-operative scars are minimal. He also uses small bone plates and screws to ensure that the jaws are positioned correctly and that they remain permanently in place.
If you would like to learn more, visit the page: corrective jaw surgery.
Implantology
Associate Professor Gibbons also has a special interest in implantology, which has become a very important part of modern dentistry. Dental implants are an increasingly popular treatment for their ability to fully restore the function and aesthetics of missing teeth. They are designed to fuse with the jawbone and become a permanent fixture.
There are a number of benefits to dental implants, and Mr Gibbons is an avid advocate of the treatment. Implants look and feel just like a natural tooth and help to maintain the bone structure of the jaw. In fact, dental implants can also help to support the facial tissues, reducing or even eliminating bone atrophy, which often causes shrinkage or cosmetic changes to the face.
Bone grafting
Because of his special interest in implantology, Associate Professor Gibbons is also highly experienced in bone grafting, a process which is sometimes necessary to facilitate sufficient levels of bone and soft tissue prior to implant surgery. Without enough bone and soft tissue in the jaw, it is not possible for implants to be successfully placed.
In many cases, Associate Professor Gibbons harvests bone grafts from areas of the jaw, although it is sometimes necessary to take grafts from the hip and other areas of the body. Sometimes, Associate Professor Gibbons will choose to use other grafting materials along with the patient's bone when it is necessary to reduce additional deterioration.
Each patient is different, so Associate Professor Gibbons will explain the process in detail before beginning your treatment. He is happy to address any questions or concerns you might have when you come in for a personal consultation.
Dentoalveolar surgery
As an oral and maxillofacial surgeon, Associate Professor Gibbons has considerable experience in dentoalveolar surgery, and one of the most common issues he addresses is wisdom teeth that require surgery. In most cases, patients require wisdom teeth surgery when wisdom teeth have become impacted.
Impacted wisdom teeth can be very painful, and if left untreated, can lead to a number of issues, including infection, tooth decay and damage to the nearby teeth and gums. Besides as a treatment for impacted wisdom teeth, surgery is also sometimes performed when disease, cysts, or tumours have affected the area around the wisdom teeth.
If you need to undergo wisdom teeth removal surgery, Associate Professor Gibbons will give you a detailed outline of post-operative instructions to ensure that your recovery is as quick and painless as possible.
To make an appointment for a consultation, get in touch.